The dates for the screenings are January 28- March 4. (Every Thursday). All movies will be screened at the Goldsmith Family Cinema, Center for Film Studies, 301 Washington Terrace, Middletown, CT at 8pm.
Free Admission.
The Festival is organized by Dalit Katz, Adjunct Assistant Professor of Religion and cultural coordinator of Israeli events at Wesleyan University. It is sponsored by the Ring Family, Jewish and Israel Studies and co sponsored by the Film Studies Department.

Souvenirs, 2006, (January 28)
English subtitles
Directors: Shahar Cohen & Halil Efrat
Winner of San Francisco International 2007, Winner of DocAviv 2006, Israeli Academy Award for Best Documentary 2006, Second Audience Choice Award of IDFA 2006.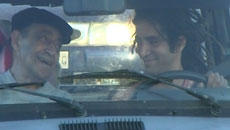 Shahar, an unemployed film maker, starts a filmed journey in search of his father's, an 82 years old Yemenite, "souvenirs", left with local girls during his service in the Jewish Brigade while stationed in Amsterdam during the second World War. During this charming and funny journey, which starts in Israel and continues through Italy, Germany and ending in Holland with an unexpected discovery, some myths of bravery are questioned with compassion and without the heart break.
Speaker: Laura Blum, film critic will talk about Military Affairs: Souvenirs and the Romance of the Jewish Brigade

A Matter of Size, 2009, (February 4)
English Subtitles
Directors: Sharon Maymon and Erez Tadmor
Question and Answer with the Directors (moderated by Dalit Katz)
Israel entry in 2009 Tribeca Film Festival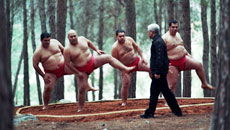 A comedy about a "coming out" of overweight people who learn to accept themselves. When Herzl loses his job as a cook and starts working as a dishwasher in a Japanese restaurant, he discovers the world of Sumo wrestling where large people are honored and appreciated. The film is set in the blue-collar Israeli city Ramle.
Featured Speakers: the film's directors, Sharon Maymon and Erez Tadmor.
Screening of Two Episodes of the Israeli TV Show Touch Away, 2007, (February 11)
English subtitles
Director: Ron Ninio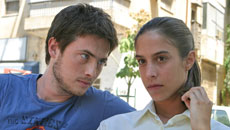 An engaging Israeli series which exposes the cultural and religious barriers which Rochele, an orthodox Israeli girl, and Zurik, a Russian secular immigrant, have to face. The cleverly scripted and well cast series has won 7 Israeli Academy Awards for 2007 and has captured the imagination of its audience.
Speaker: Professor Olga Gershenson will talk about Aliya to the movies: Russian-Israelis on and off screens.

My Father, My Lord, 2008, (February 18)
Winner of Tribeca Film Festival 2007 Top Award, Winner of Taormina Film Festival 2007 Best Director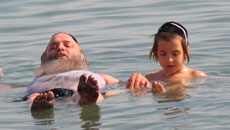 "God doesn't watch over those who don't observe the Torah", declares Abraham Edelman, an ultra-Orthodox rabbi to his Yeshiva students. Who does God watches over become a test for the Rabbi and his wife during a summer vacation at the Dead Sea with their only son.
Speaker: Michael Fox, a film critic will talk about "Can I Get a Minyan?" Israeli Cinema Finally Gives Religious Jews Their Close Up.

Eli and Ben, 2009, (February 25)
English Subtitles
Director: Ori Ravid
" A coming of age drama with a social message, brilliantly made", Mathan Shiram, Globes daily newspaper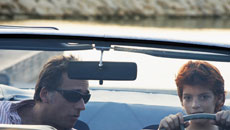 The life of the Yassif family turns upside down when the father, Ben, who is the city architect of Herzelya, is charged with taking bribes. At stake is also the relationship between the father and his son Eli who adores his father. The film examines their chaotic relations in light of those stormy days.
Speaker, Laura Blum will talk about The End of Innocence: Unmasking Identities in Eli & Ben .

Noodle, 2007, (March 4)
English Subtitles
Director: Ayelet Menahemi
Montreal World Film Festival Grand Prize of Jury, 10 Nominations for the Israeli Film Academy Award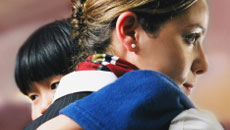 The life of Miri, a flight attendant, is totally changed by an abandoned Chinese boy whose migrant-worker mother has been deported from Israel.
Speaker: Isaac Zablocki will talk about "Fantastic Realities in New Israeli Cinema".