The dates for the screenings are February 10 – April 7. (Every Thursday). All movies will be screened at Wesleyan University Center for Film Studies, at the Goldsmith Family Cinema, 301 Washington Terrace, Middletown, CT at 8pm.
Free Admission. On site parking.
The Festival is organized by Dalit Katz, Adjunct Assistant Professor of Religion and cultural coordinator of Israeli events at Wesleyan University. It is sponsored by the Ring Family, Jewish and Israel Studies and co sponsored by the Film Studies Department.

Five Hours from Paris, 2009, ( February 10)
English subtitles (Feature. 90 minutes)
Director: Leon Prudovsky
Official Selection Toronto International Film Festival. Winner of First Prize for Best Film, Haifa International Film Festival 2009.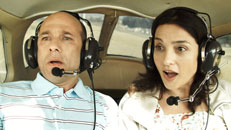 A romantic drama about a dream, an obstacle and a unique friendship between an Israeli taxi driver, who has no aspirations, and a Russian music teacher, who gave up hers long ago. The story is set in a working class suburb of Tel Aviv, only five hours from Paris.
Speaker: Haim Tabakman, an Israeli film director and Wesleyan University Jewish and Israel Studies Scholar in Residence.
Eyes Wide Open, 2009 , (February 17)
English Subtitles (Feature. 90 minutes)
Director : Haim Tabakman
Winner of Cannes Film Festival Official Selection.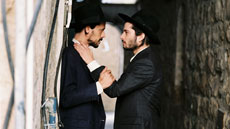 Aaron, a respectable married Orthodox man and a dedicated father, falls in love with a mysterious student who arrives at his Jerusalem ultra orthodox Jewish community. Turn between his love to his family and his passionate attraction, Aaron is led to a radical decision.
Featured Speaker: the film's director and Wesleyan University Jewish and Israel Studies Scholar in Residence, Haim Tabakman.
Ajami, 2009, (February 24)
English subtitles (Feature. 120 minutes)
Directors: Scandar Copti and Yaron Shani
Israel Academy Award Nominee for Best Foreign Language Film, Special Distinction Camera D' Or Competition Cannes Film Festival.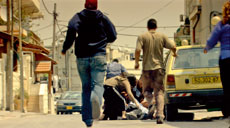 Crime drama with five interwoven everyday life stories which takes place in Ajami, a religious and ethnically diverse neighborhood in Jaffa. The film, told through the points of view of its different inhabitants, unfolds the dramatic collision of different worlds and cultures of enemies who are also neighbors.
Speaker: Laura Blum, a Film Critic.
The Beetle, 2008, (March 3)
English subtitles (Documentary Comedy. 70 minutes)
Director: Yishai Orian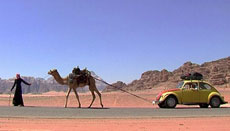 A documentary comedy about Yishai Orian who is married to Eliraz but also is in love with his old VW Beetle. Liraz tries to convince Yishai to get rid of the old car which is not safe enough for their first child, who is on the way. Yishai embarks on a journey to save his car which starts with finding the previous owners of the Beetle and ends with a journey to Jordan.
Speaker: Anne Muriel Peters, Assistant Professor at Wesleyan University at the Government Department.
Screening of an episode from the Israeli TV show Srugim and an episode from the show Arab Labor (March 31)

English Subtitles
View trailer for Serugim
View trailer for Arab Labor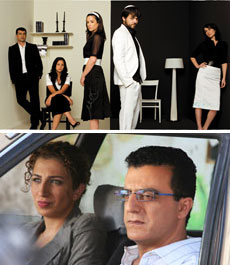 Two TV shows which deal with the lives of the minorities in Israel. The show Srugim follows the dating saga of young Jewish religious Israelis and the other show Arab Labor depicts the hilarious attempts of an Arab journalist to fit into Israeli society.
Speaker: Isaac Zablocki, Director of Film Programs at the JCC Manhattan.
Wristcutters: A Love Story, 2006 (April 7).

English Subtitles
Director: Goran Dukic
Nominee 2006 Sundance Film Festival Grand Jury Prize, Winner 2006 Gen Art Film Festival Best Feature Film, Winner 2006 Libertas Film Festival Audience Award & Best Feature Film.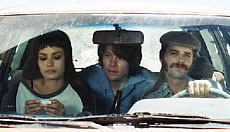 This feature film is an adaptation of the Israeli writer Etgar Keret's novella Kneller's Happy Campers. It is a dark comedy about a search for a lost love, new found friends and the continued quest for happiness in life and after life.
Featured speaker: Etgar Keret, internationally renowned Israeli writer.